Upgrade your home security with these smart home tech devices.
These days, "home security" is so much more than a keypad on the wall and a noisy alarm system.
The latest connected, smart home tech devices allow you to do so much more than simply deter potential intruders and alert authorities in the event of a break-in. Smart, savvy home owners are equipping their properties with the latest smart cameras, smart doorbells, and even smart lock systems. Here are some of our favorite smart home devices for home security.
Smart Camera Devices
With a full suite of indoor and outdoor smart camera devices and systems, Victure is sure to have the smart camera tech to meet your needs. Victure offers everything from indoor baby monitors/pet cams, to wall mounted indoor security cameras, and outdoor camera + floodlight systems. With smart camera options at every size and price range, you can outfit your whole home (and garage) with real time video monitoring accessible from any smartphone.
If you use an Amazon Echo Show (if your aren't, you ought to check it out) then the ZOSI Indoor Security Cam is the perfect option for you. The ZOSI cam can be used as a free standing device - simply place it on any stable surface like a nightstand or bureau - or mounted on a wall. Powered by Amazon Alexa, simply ask Alexa to show the camera feed and you can monitor activity anywhere where your ZOSI cameras live. With 2-way communication via ZOSI's internal microphone and speaker features, you can listen in or communicate back with whomever interacts with your ZOSI camera.
Not an Amazon Alexa smart home user? The Wyze Cam V3 connects to both Alexa and Google Assistant - as well as IFTTT - enabling some seriously nifty integrations with your other smart home tech. The Wyze Cam 3's super compact design makes it perfect for indoor, outdoor, or any home security application. With night vision, motion control and noise detection, the Wyze cam may be the smartest home little home security device under $50. No subscription required!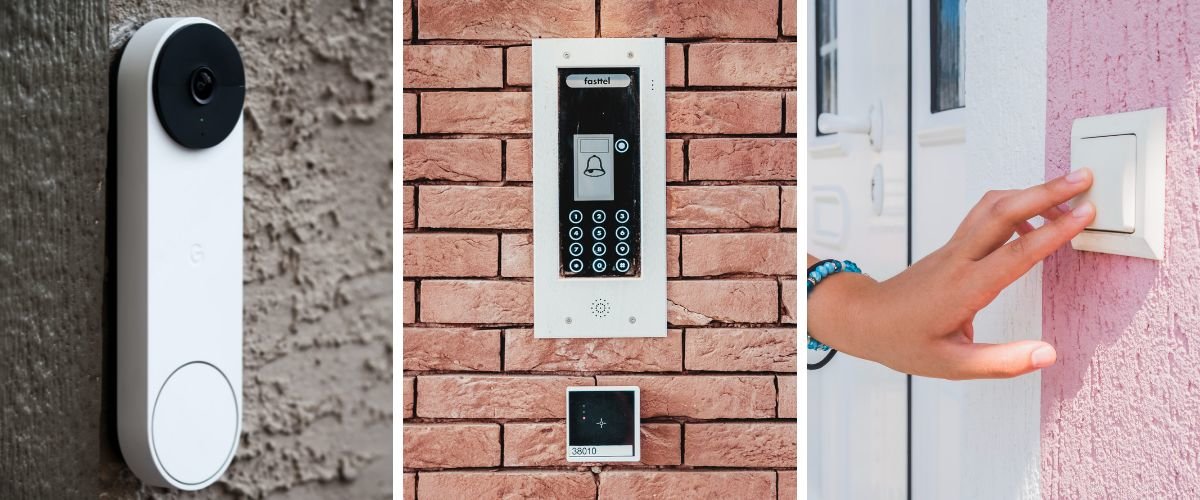 Smart Doorbell Devices
If you haven't upgraded to a smart doorbell yet, it's about time you catch up with your neighbors! New and improved smart doorbells like the eufy Security doorbell offer crystal clear video quality without that common warped "fish eye lens" effect. What's more, the eufy smart doorbell is smart enough to tell the difference between a human and other creatures who may be approaching your door, that way you will not get unnecessarily spooked by an overgrown squirrel or the neighbors cat!

Despite an influx of competitors and alternatives, the preeminent leader in smart doorbell tech - Ring Doorbell - remains an excellent option for your smart home security system. The Ring Doorbell is an impressive and convenient device in its own right, but with Alexa connectivity and the new Ring Chime voice assistant and intercom, the Ring Video Doorbell is more functional than ever. This app enabled smart device can give you real time notifications and even allows you to communicate directly with visitors, no matter where you are, by way of the mobile app.
Yet another compact, sleek, and of course, smart option for video doorbells is the Arlo Essential Wired Video Doorbell. While the Arlo smart doorbell offers much of the same capabilities as other options, the Arlo also boasts a few key features that others lack. For example, Arlo's "head-to-toe" camera picture dimensions give you greater visibility into what is happening at your front door. Not only that but Arlo allows users to specifically target programmable "activity zones" within camera-shot of the video doorbell.
Smart Lock Devices
When it comes to smart home devices, smart locks are arguably the simplest, most low-tech home security devices, but that doesn't mean they aren't functional. For example, the Wyze lock smart door lock is a super secure deadbolt device that can auto-lock as you depart and auto un-lock as you approach the door. This app enabled and Alexa-connectable smart lock eliminates the need for keys, but still works with your existing keys, deadbolt, and door jam setup.
Let's face it, carrying around a heavy, jingley ring of metal keys is totally outdated and inconvenient. Thankfully, the Lockly Keyless Entry Lock with "Pin Genie" technology offers homeowners a safe and simple way to enter and secure their home with a smart touchpad pin code system. The "peek-proof" smart pin system rotates the location of the pin code buttons after each punch, so while the code always remains the same, the button sequence is impossible to replicate.
If you aren't really into the high-tech look but still want the peace-of-mind knowing your home is safe, secure, and accessible remotely, then you need to check out the Level Bolt. This stealthy smart lock fits discretely inside the door, replacing your existing dead bolt's inner workings without changing the aesthetics of the door itself. Simply put, the Level Bolt makes any door app-accessible and links your locks to Alexa, any Ring doorbell system, as well as Apple's HomeKit.
Ready to upgrade your smart home security?
Our expert professional Teks specialize in smart home security device consultation, installation, and setup. The best part is, you can book and appointment in less than 3 minutes and receive service as quickly as the same day. For a safer, more secure home, book your smart home setup appointment today.