With Independence day just around the corner and a record-setting heatwave hovering ominously over the American southwest, it's no surprise that searches and sales of commercial cooling, refrigeration, and air conditioning products are off the charts. We've compiled some of the best smart home solutions to help you and your family beat the heat this summer.
Escape even the driest deserts with smart evaporative coolers
Most of us in the Washington DC/DMV area have never heard of an evaporative cooler, and for good reason. These devices are made specifically for truly hot, arid, dry desert climates. Folks living in the American south west - states like Nevada, Utah, Arizona, and New Mexico - might consider an evaporative cooler, especially during this nearly unbearable drought. The technology concepts powering evaporative coolers - like these popular units from Air Choice - are surprisingly simple. They pass air through water (or ice!) to naturally cool the air while also maintaining optimal humidity levels. Sometimes called a "swamp cooler," these devices can literally save your life, or at least make the heatwave more livable, when installed in a bedroom or living space. Check out the evaSMART swamp cooler for a programable unit than can be controlled via mobile app or smart speaker voice assistant.

Bask in cooling comfort with these portable AC (Air Conditioning) units
For those living in the DMV area - which is already pretty "swampy" - air conditioning is the way to go. TekDash has recommendations for smart home solutions whether or not your home is equipped with central air or other climate control systems throughout the house.
For those who are fortunate enough to have a reliable AC system installed, consider connecting your AC system to a smart home network with the Sensibo Sky. The Sensibo can help cut your utility bills by up to 40% by powering the AC up and down based on your needs. Yes, this device makes your AC system "voice activated" by connecting to your home's smart speakers, but it goes a step further. The coolest (pun intended) feature that the Sensibo boasts is the geolocation capability that knows when you leave the house and when you are about to arrive at home and adjusts the temperature accordingly!
If your home doesn't already have AC system throughout, consider a connected, smart, portable AC unit to transform any room into an in-home oasis. In fact, even if you do have a whole home AC system, you can save considerable amounts of money by setting your whole-home thermostats at higher temps and installing portable AC units in select spaces like bedrooms and living spaces. For example, a UKOKE portable AC system - you guessed it - connects to your Google Home, Amazon Alexa/Echo systems, or Apple Home Pod and is both controllable and programmable from the mobile app.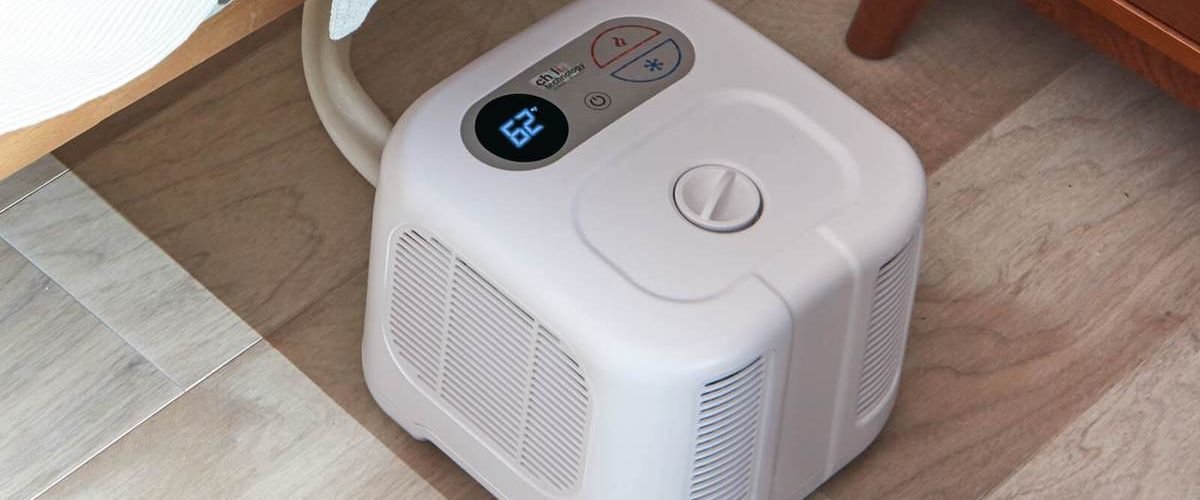 Get a chill night's sleep with smart bed tech
There's no question, the worst part of oppressive summer heat is trying to get a comfortable, restful night's sleep. Thankfully, companies like Chilipad, Bedjet, and Eightsleep are addressing the sweaty-bed problem head on. The simplest, and most cost effective solution is the BedJet. The BedJet's technology is really very simple (some have described it as a giant hairdryer) but the results are dramatic. One advantage of the BedJet,is that, unlike the Chilipad and Eightsleep it can be used to warm your bed in cold winter months.
The Chilipad takes a different approach to cooling the bed. This temperature controlled mattress pad uses water - as opposed to air - to provide cooling comfort. Similar to the BedJet, the Chilipad is a slightly-bigger-than-a-breadbox unit that lives next to, or under, your bed frame. The Chilipad circulates cool water to exactly your desired temperature, and even offers solutions for 1/2 and full bed options for one or two sleepers.
If there were a "Tesla of mattress pads" it would be the Eightsleep. The Eightsleep offers a sleek, seemless and expertly engineered version of the cooling mattress pad product. The Eightsleep allows sleepers to enjoy temperatures as frigidly low as 55 degrees! Just like the Chilipad, Eightsleep offers dual climate zones that allow each individual to set their exact desired sleeping temperature. Nifty features like sleep monitoring analytics, and thermal a programable thermal alarm system take your sleep experience to the next level.
Need expert advice to beat the heat this summer?
Our local professional Tek's are on call 24/7 to help you find the perfect climate control solution for your home. Book an appointment in less than 3 minutes and schedule your in-home or remote service on your schedule. Check out all of our services here or reach out to us directly for assistance. We're here to help!